Warm congratulations to Dongguan Fanstar for passing the ISO9001:2015 international quality system certification
Views: 41 Author: Site Editor Publish Time: 2022-05-07 Origin: Site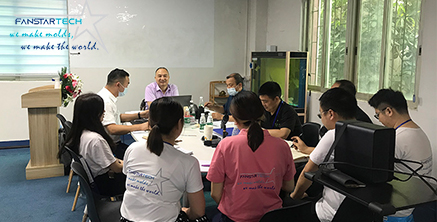 2022-05-05 is definitely a good day for Fanstar. Through the joint efforts of all employees and the guidance of teachers, Fanstar successfully passed the ISO9001:2015 international quality system certification of SGS company at one time. The passing of this certification will bring Fanstar to a higher level. This is not the end but a new starting point. Because of you, Fanstar will have a more promising future. Thanks to all my colleagues for their hard work and dedication, let us set sail in the precision injection mold industry together!

Fanstar's vision and mission
Fanstar people always adhere to the vision of "becoming the world's leading brand of precision multi-cavity injection molds", and always adhere to "master the core technology of injection molding production, and conduct technical exchange analysis with customers from the production needs of finished products before mold making, so that the mold delivery time is short and the service life is long. , express mass production and finished product quality" mission. Fanstar people are based on hard work and ingenuity, steadily improve their own injection mold technology level, and continuously improve customer service awareness and customer satisfaction; always from the perspective of customers, provide customers with quality assurance injection molds, and ultimately cooperate with customers To achieve the goal of "win-win".
Why choose SGS company
Preferred SGS is an internationally recognized inspection, verification, testing and certification body, and SGS is the globally recognized benchmark for quality and integrity. We believe more in the authority and professionalism of SGS; secondly, Fanstar's style of doing things is to be the best in what we do. We are not just to get an ISO certification, but to truly implement ISO standards to in the daily work of the company. Therefore, in the end, we chose SGS company. Of course, Fanstar still has many shortcomings. Dare to face the shortcomings and shortcomings, and continuous improvement will make us go farther and more calmly.
what to do in the future
Through this certification audit,Fanstar's relevant document management specifications, standardized processes of product production and strict control of product quality have been affirmed by the audit team, which is conducive to the continuous improvement of Fanstar's quality management system and the further improvement of its operating level. The construction of quality management system is a work with only a starting point and no end. In the future, Fanstar people will continue to attach great importance to quality management work, and strive to become the world's leading brand of precision multi-cavity injection molds!